Welcome to Total ESL – Total ESL is the resource for ESL TEFL TESOL teaching jobs and Teacher Training Courses as well as ESL teacher resumes, ESL schools, ESL private tutors, blogs, resources, lesson plans, articles and more! Welcome, enjoy your visit and best of luck teaching English abroad
How to Incorporate Educational Technology as an ESL Teaching Aid
Admin - Feb 07 2017
Incorporating educational technology in a classroom of English learners is an effective tool for helping students understand and apply important concepts. It will undoubtedly enhance the learning experience, and provide a fun and engaging way for the class to learn new material. However, it could also be a tricky process for students who don't have prior exposure to the technology in question. In such scenarios, they'll have to first overcome the language barrier before learning to utilize the new technology. Despite the challenges, living in the technological age necessitates that students learn these skills to better their lives and future prospects. Their future careers will demand certain technological skills, as such, this is an opportune moment to include technology in teaching English to your students.
Challenges
First and foremost, to truly appreciate the technologies being used, students must develop language and vocabulary skills to understand the nature of the educational tool. This could be achieved by introducing them to pertinent words and concepts prior to introducing the aid to the classroom. Moreover, when teaching foreign learners, they may not have access to a computer or the internet at home, this places a limit on previous exposure. These students should be encouraged to use services available through the school and public libraries to familiarize themselves with these resources. Even some teachers have a difficult time keeping up-to-date with the latest internet lingo and jargon. Do some research and prepare before teaching your students the ins and outs of the latest technological advances.
Great tool to play Flash on mobile devices/tablets:
Strategies
Build Vocabulary:The greatest difficulty is making new technologies accessible to all English learners. Fortunately, there are a few steps that you could take as a teacher to get your students started on the right path. To begin, determine your students' level of understanding and basic grasp of technological features and concepts. This is best accomplished by dividing the class into groups and having students brainstorm technology related words. Furthermore, review basic words that students will encounter by using props and other visual aids. Finally, check comprehension by asking students to demonstrate understanding by giving the definition of commonly used terms in their own words.
Provide Handouts: ESL students often find it difficult to follow along on their screens as the teacher demonstrates on an overhead projector. In such scenarios, it would be useful to provide handouts with visuals showing computer screenshots of each important step. Teachers can create these handouts themselves by utilizing the "print screen" key found on their keyboard and then pasting the screenshot onto Paint or Microsoft Word.
Give Simple Assignments: It is important to keep assignments simple at the start. Learning a new skill in conjunction with having to complete an assignment that involves extensive research would hamper a student's ability to learn the new technology. A basic assignment on a familiar topic such as family would allow students to concentrate their efforts on applying newly learned technological skills and information.
Encourage Group Work: Countless studies have demonstrated that knowledge is best internalized when it is reinforced through social learning. When new information and technology is used in a group setting to solve a problem, it builds a neural connection that facilitates future recall. As such, be sure to incorporate group work when introducing new technologies to the classroom.
Visual Learning
Auditory learning has its limits, and studies have concluded that upwards of 70% of all students are visual learners. This necessitates the usage of visual technology to aid in the learning process. As such, clip art and graphical imagery could be used to reinforce words by building visual associations. Moreover, it would be wise for teachers to use PowerPoint presentations to introduce nouns and colors to beginner learners. In addition, to encourage students to be self-learners you could provide them with a list of useful sites and have students create presentations based off the information. Try to be creative and utilize visual aids and presentations frequently to enhance your students' learning experience.
Science is one subject that must be visual to help ESL learners:
Listen/Create a Podcast
The internet is inundated with podcasts of various sorts. Find podcasts related to the unit you are teaching and have your students listen to them. This approach serves as an entertaining change of pace that would be welcomed by all students. You could even attempt to find an interview with an author of a book that the class is assigned to read. Developing a connection with the author will allow students to fully immerse themselves in the reading material. For advanced learners, you could encourage them to create weekly podcasts as a log of their learning progression. This could serve as an interesting recap upon the conclusion of your course. Students will surely enjoy looking back upon their development over the course of successive weeks.
Article on preparing English learners for the 21st century
Create a Classroom Webpage
Promoting comradery and a sense of belonging is crucial for building a nurturing learning environment. A great way to incorporate technology, while endorsing togetherness is by creating a classroom webpage. It could be used for a plethora of purposes, including; a place to post announcements, distribute grades, and as a resource center for assignments and examinations. Furthermore, students could be tasked with writing a weekly blog, or the aforementioned podcast, that is then published on the website. Another useful feature would be to include supplemental material on the webpage for each lesson in order to enrich students' learning experience.
A Moodle alternative open-source (free) Learning Management System LMS: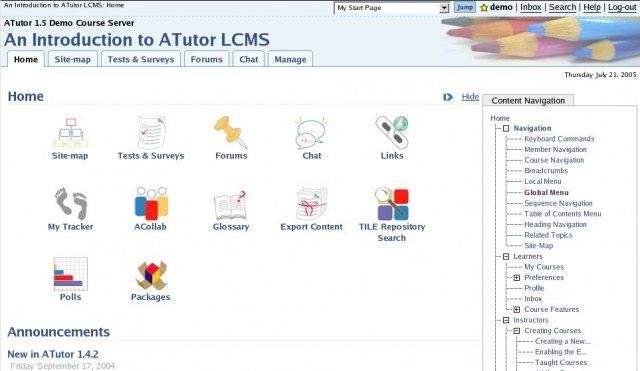 Conclusion
Living in the digital age, technology is becoming ever-entrenched in all aspects of life. As such, it necessitates the need for students of all ages to be comfortable with using the latest technologies. Not only will it make their lives better, but it will facilitate future endeavors outside of the classroom. Despite the challenges faced by foreign learners, such as; learning new vocabulary and lack of prior exposure, with some dedication, these hurdles can easily be overcome. Building vocabulary, providing handouts with visual imagery, and group work, all help to lessen the burden on foreign learners and help them better grasp newer technology. Furthermore, these technologies could be used as an aid for visual learners by encouraging presentations and through the incorporation of visual-associative learning. Most importantly, a sense of belonging can be achieved in the class by making a classroom webpage and having students participate in developing creative elements of it. As you can see, the possibilities of using technology to enhance learning are endless. Be creative and use this resource to its fullest.
Leave a reply