Welcome to Total ESL – Total ESL is the resource for ESL TEFL TESOL teaching jobs and Teacher Training Courses as well as ESL teacher resumes, ESL schools, ESL private tutors, blogs, resources, lesson plans, articles and more! Welcome, enjoy your visit and best of luck teaching English abroad
Using Social Media to Build Listening Skills and Summary/Response Writing for Online Courses
Admin - Nov 15 2017
Social media is often seen in opposition to learning. It's a distraction in the classroom. It takes students' attention away from actual learning. However, when utilized properly, social media can be a powerful classroom tool. As an educator using social media, you're engaging with students on a platform where they already feel comfortable, while also sowing them a different side. Especially for a language learner, social media can be a wonderful source of native speaker content to enhance listening, reading, and writing skills.
Specifically, this article will outline two practical online learning activities (though they could easily be adapted for in-person classroom settings as well), that will give your students listening and reading practice as well as enhance their summary and response writing skills while also encouraging them to think critically. Why are summary and response skills important? Because within summary and response writing, you are asking students to practice skills that will greatly advance their academic careers. You are asking them to summarize, respond, and think critically.
Summarize
Asking your students to summarize information they have just heard is the most basic method of assessing basic comprehension. You can start this process by asking basic comprehension questions about videos and/or social media posts you bring to your students' attention. Asking students, the who, what, where, and why questions. Eventually, you will be able to ask students to summarize a listening or reading without baiting them with the basic comprehension questions first. A skill that will come in handy if they plan to enter a 4-year university.
Respond
Response writing is essentially getting your students writing about THEIR feelings or reactions to the topic. It is important to remember that some cultures do not teach this writing style and as such it can be a stark contrast to the native cultural writing style of your students. As with summarizing, response writing can be scaffolded by asking leading questions and then instructing students on how to combine these answers into a paragraph, essay, dissertation, etc. Questions like: How did the video make you feel? Why? Do you agree or disagree? Why? Here they WHY is of utmost importance. The WHY is how you get your students to write about their own feelings in relation to classroom content.
Think Critically
Asking student to think critically about a topic is asking them to go beyond basic comprehension questions and basic understanding, and to apply this new information into their personal and/or professional lives. For example, if a video you've asked them to watch pointed out a social justice issue, ask students to come up with a solution, not to simply identify the issue being discussed in the video. This is yet another skill that will greatly impact their academic lives, and arguably, make them more well-rounded individuals.
The following activities will target these skills and provide specific ways to encourage students to summarize, respond, and to think critically:
Example Activity 1: News Clips Activity
In this activity you will utilize video clips from native speaking national new sources in the US. Luckily, the website for these national news organizations provide in-numerous 2-3 minute video clips of news stories. Student can select their own on a topic they find interesting, or you may select one for the whole class. Examples websites include: http://www.nbcnews.com/video, http://abcnews.go.com/Video, http://www.bbc.com/news/av/10462520/one-minute-world-news.
Summarize
This is the easy section. If you've selected one video for the entire class to watch, then you should develop targeted and specific comprehension questions for them to answer. If you have decided to allow students the freedom to select their own videos, then you could create a blank template of the who, what, where, why questions for them to answer. If they are advanced in this area, you could simply ask them to summarize the video.
Respond
Get students writing about their feelings on the video by asking:
§ Why/How did this particular video resonate with you?
§ Do you have a personal connection to the story?
§ Does it impact your personal or professional life?
§ Do you agree or disagree with the thoughts of the video?
· Why or why not?
Think Critically
Extend thinking beyond basic comprehension by asking:
· What are the implications of this story for the future?
· How does it effect society/technology/industry/etc.?
· If the video brought attention to a problem, what are some possible solutions?
Example Activity 2: Facebook/Instagram Activity
In this activity, students will analyze the Facebook and/or Instagram account(s) of well-known celebrities. Have them select a celebrity (or more than one if your time allows), and get them writing by doing the following:
Summarize
Summarizing skills come in handy here to introduce their celebrity. You could instruct students to pretend as though you have no idea who this person is, and they must tell you about them. To get them brainstorming, you could ask:
· Who is your celebrity?
· List some of their most well known work.
Respond
Student can begin writing about their own feelings on the topic by asking:
· What is your personal opinion of him/her?
· Why did you choose this celebrity?
· Do you like them as an actor/model/athlete?
o Do you respect their talents?
Think Critically
Celebrities often use their social media accounts to sell products, publicise their upcoming works, and/or to push a personal agenda. You can bring this to student attention, and get them writing by asking:
§ How does the celebrity portray themselves on their social media site?
§ Does this portrayal match what you know about them?
o For example, some actors use social media to bring attention to political issues they feel are important, but do not choose roles that represent these feelings.
Featured Article: 5 Ultimate Tricks of Using Social Media as a Learning Tool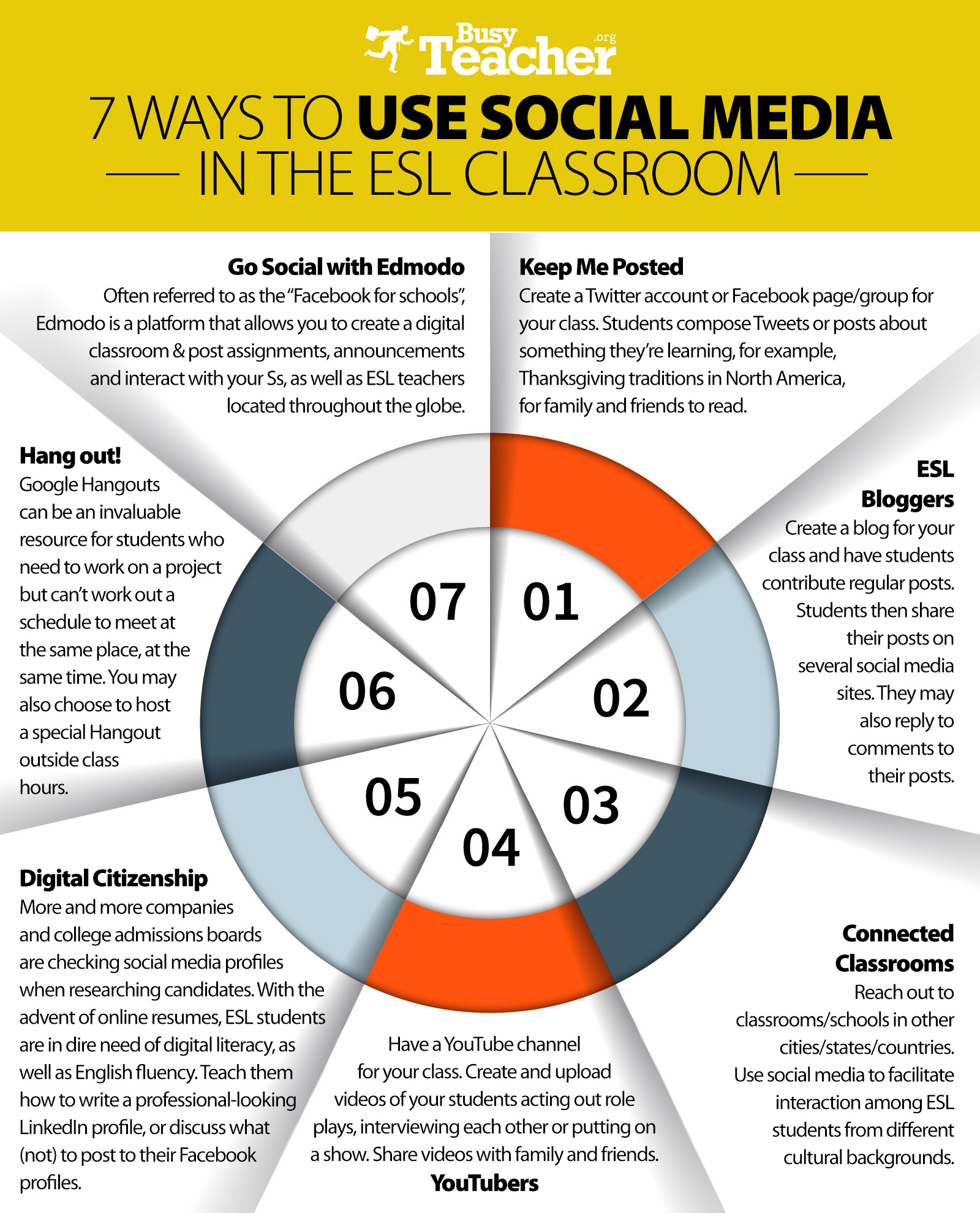 Conclusion
Social media can be a wealth of source material for an ESL/ELL setting both in-person and online. If utilized correctly, social media can be engaging to students and supports listening, reading, and writing skills. The two activities outlined here are just the beginning. Hopefully, they whet your educational appetite, and get the wheels turning for even more activities to use in your own teaching.
Leave a reply